[WEBINAR] You have a Green Manufacturing project and you need funding? GEMSTONE can help you in your project on 3 issues: Training, Internationalization and Innovation. More than €1.000.000 are available to fund the best projects around Europe.
To know everything about the different Open Calls and get the best chances in your application, you can attend the 𝐢𝐧𝐟𝐨𝐫𝐦𝐚𝐭𝐢𝐨𝐧 𝐬𝐞𝐬𝐬𝐢𝐨𝐧 𝐨𝐫𝐠𝐚𝐧𝐢𝐬𝐞𝐝 𝐨𝐧 𝟏𝟒𝐭𝐡 𝐨𝐟 𝐒𝐞𝐩𝐭𝐞𝐦𝐛𝐞𝐫 𝟐𝟎𝟐𝟑 𝐛𝐞𝐭𝐰𝐞𝐞𝐧 𝟐-𝟒𝐩𝐦 𝐂𝐄𝐓 where all the good tips will be given and your questions answered to be ready to apply.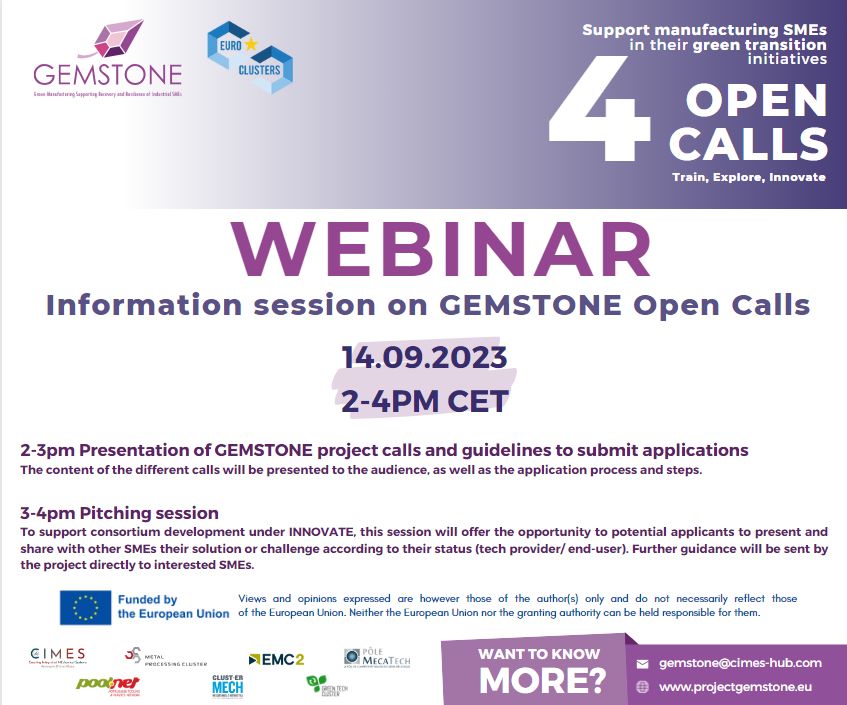 A pitching session for the open call INNOVATE will be organised between 3-4pm CET to give SMEs the opportunity looking for partners around Europe to share their ideas and projects. This moment will be major to meet potential interesting partners and build consortiums. If you are interested, do not forget to mention it during your registration.

💻 Registration link: HERE
#webinar#opencalls#green#manufacturing#opportunity#collaboration#training#internationalisation#innovation