[EXPLORE] 𝗪𝗼𝘂𝗹𝗱 𝘆𝗼𝘂 𝗯𝗲 𝗶𝗻𝘁𝗲𝗿𝗲𝘀𝘁𝗲𝗱 𝗶𝗻 𝗴𝗼𝗶𝗻𝗴 𝘁𝗼 𝗦𝗶𝗻𝗴𝗮𝗽𝗼𝗿𝗲 𝗶𝗻 𝗢𝗰𝘁𝗼𝗯𝗲𝗿 𝟮𝟬𝟮𝟯 𝘁𝗼 𝗱𝗶𝘀𝗰𝗼𝘃𝗲𝗿 𝗶𝗻𝘁𝗲𝗿𝗲𝘀𝘁𝗶𝗻𝗴 𝗽𝗮𝗿𝘁𝗻𝗲𝗿𝘀 𝗮𝗻𝗱 𝘀𝘁𝗿𝗲𝗻𝗴𝘁𝗵𝗲𝗻 𝘆𝗼𝘂𝗿 𝗶𝗻𝘁𝗲𝗿𝗻𝗮𝘁𝗶𝗼𝗻𝗮𝗹 𝗻𝗲𝘁𝘄𝗼𝗿𝗸 𝗿𝗲𝗹𝗮𝘁𝗲𝗱 𝘁𝗼 𝗚𝗿𝗲𝗲𝗻 𝗠𝗮𝗻𝘂𝗳𝗮𝗰𝘁𝘂𝗿𝗶𝗻𝗴?

ECCP organises the EU-Singapore Matchmaking Event between 30th October 2023 and 1rd November 2023 in Singapore, in the context of the Singapore Week of Innovation & Technology (SWITCH).
𝗬𝗼𝘂 𝗰𝗮𝗻 𝗿𝗲𝗰𝗲𝗶𝘃𝗲 €𝟭.𝟱𝟬𝟬 from the project GEMSTONE by applying to the Open call EXPLORE if you are interested in participating in the EU-Singapore Mathcmaking Event. And you know what? Singapore is one of the priority zones defined by GEMSTONE >>> it will give you automatic bonus points, reinforcing your chance to be selected.
More information: HERE

Deadline: 2nd August 2023
Open to starts-ups and SMEs.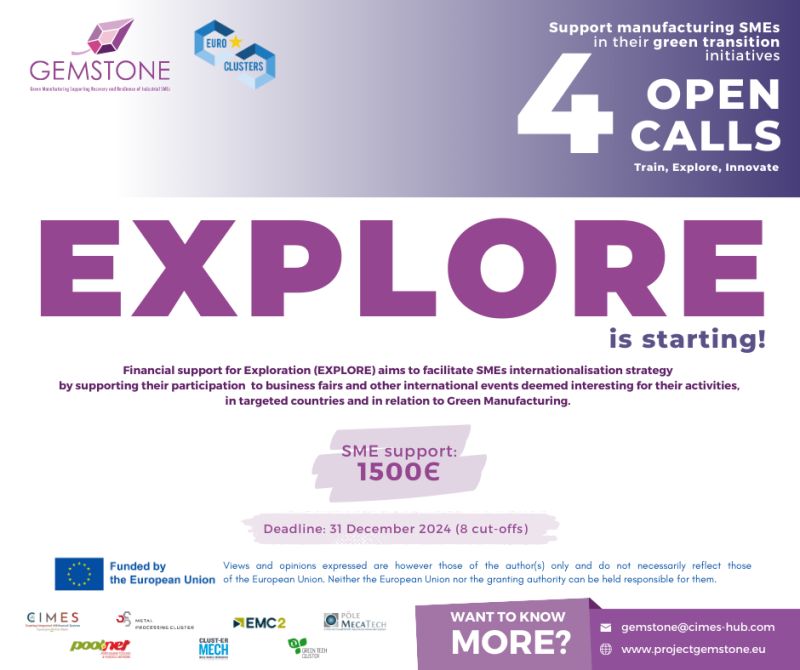 Don't hesitate to contact the GEMSTONE partners to know more about the open calls and application process!
#explore#internationalisation#opportunity#opencall#Euroclusters#singapore